Remembering: Jim Wigley's obituary.
One of Jim's last paintings of himself, after he visited Tennant Creek and met Billy Grant in 1988. A 6.7 earthquake shaking the town occurred during the visit.
The painting was shown in his retrospective show at the Niagara Galleries in 1992. Not sure where it has landed.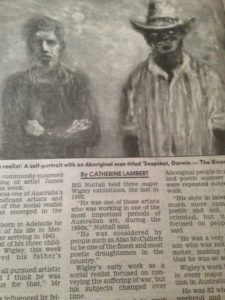 Source. Sunday Herald Sun July 25 1999. Click to enlarge. One inaccuracy i.e. 3 children from 3 marriages. 2 marriages with 3 children and one long term relationship without children.