In the print area.
I finally got hold of the same paper initially used to finish my first attempt at an edition run of 'The Singing Boab Tree' Lino cut. My attrition rate was high for the first printing session, as only 4 out of 12 prints were suitable. Today's print session was 1 out of 6. Oh, misery.
After the 5th stuff-up all due to paper creases with a smudge or two, I remembered earlier experiments with felt blankets. A successful print was achieved after removing a blanket and resetting the press. The edition completed. A lesson learnt. Respect to Master printers.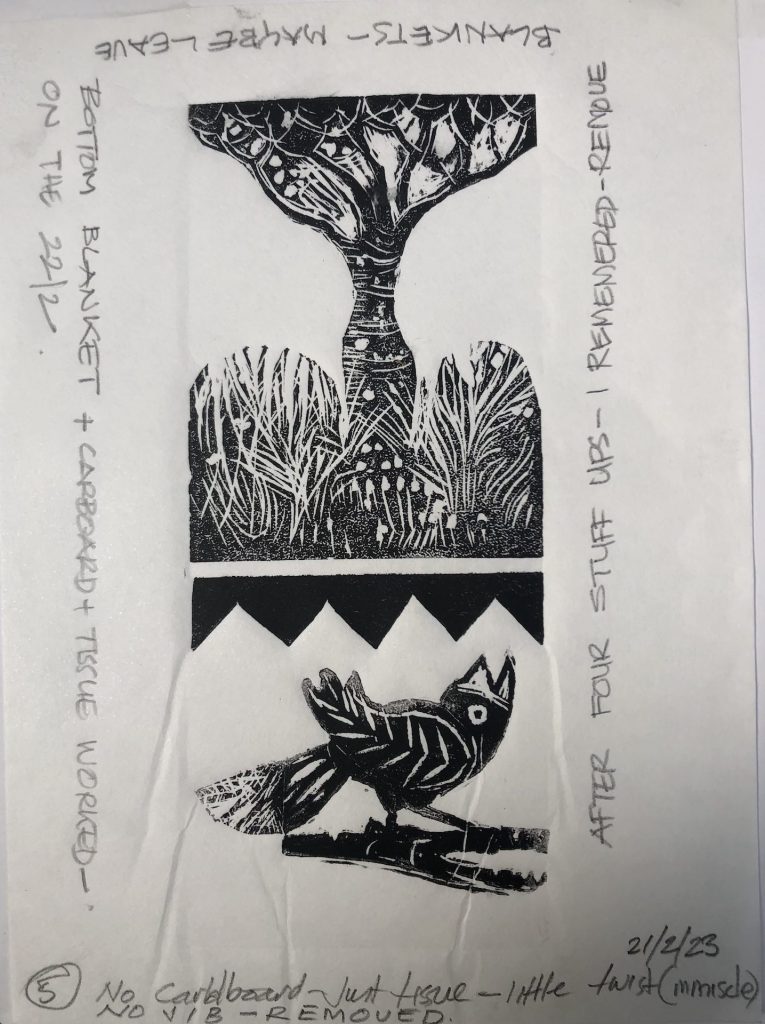 With a success I plucked up the courage to use my last Printight KM73 photopolymer plate to test run an intaglio etching, keeping with the test iconography of a wasp. The positive image was drawn on vellum sheet using a Rotring ink pen. The etched plate, #004 was exposed for 180 seconds, washed for 30 seconds and then sponged and dried (must get a timer). Post exposure was 15 minutes and left overnight for test printing next day.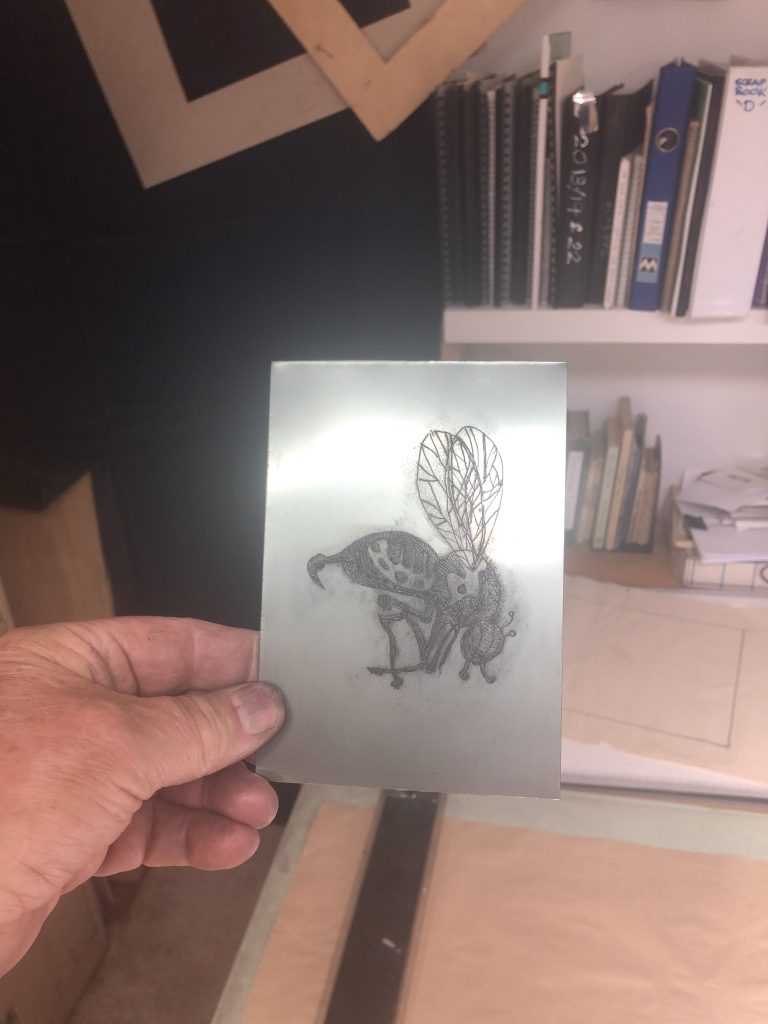 I pulled the pin after two Test prints. The example below shows too much white and loss of some black detail. The lack of plate tone and the literal transference of my drawn line was not satisfactory. I took heart, as no smudges were left on the print paper. A 3rd inking and increasing the press pressure would likely to improve the outcome. But onwards tomorrow.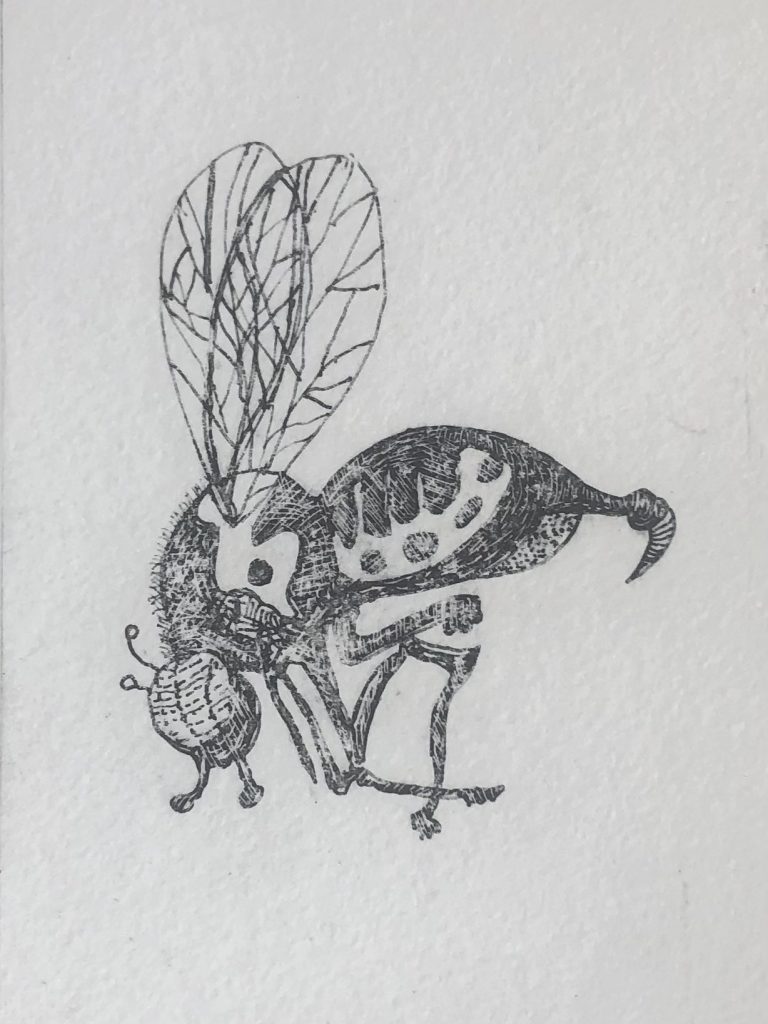 A further test plate and print was made using a Random Dot Screen (RDS) during the exposure process to try and sharpen the blacks of the image and add tonal variation to the overall print.
The plate was exposed for 120 seconds and the RDS for 60 seconds. Bath for 30 seconds , sponged for 20 seconds, dried for 10 minutes and post exposed in the UV unit for 20 minutes.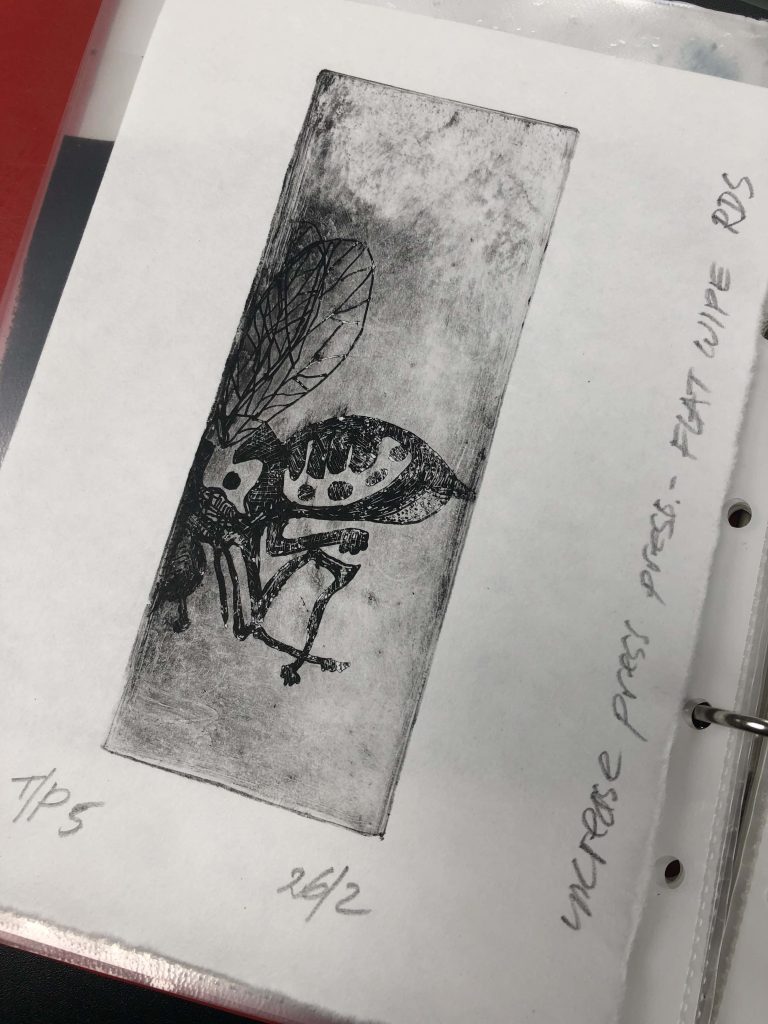 The test RDS print shows flaws in the solid blacks, some due to inking, others requiring a touch up of the negative before making a second plate. The test also shows my poor wiping skills and dust is my enemy. Bash, bash, practice, practice.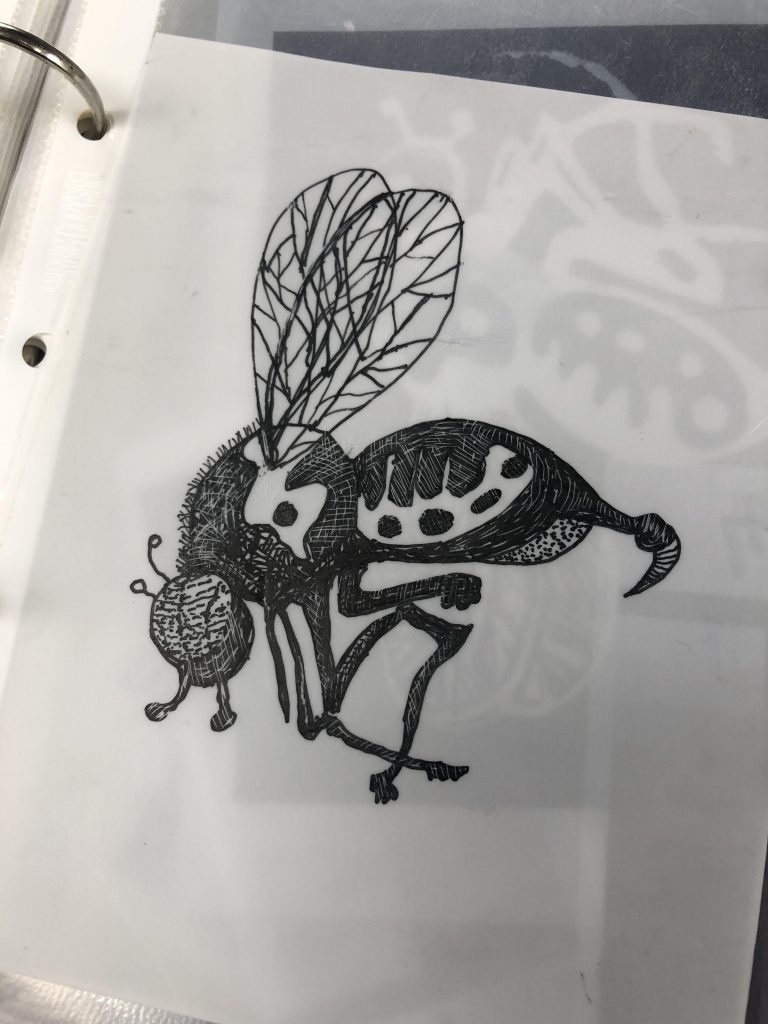 Wasp #007 etching was made using a Printight Gold 95 plate. The negative was exposed for 120 seconds and the RDS for 36 seconds. Bath wash for 30 seconds in 20C water then sponge wiped 4 times. Dried for 10 minutes using a hair dryer , then left to cool before placing plate in the UV unit for post exposure of 16 minutes.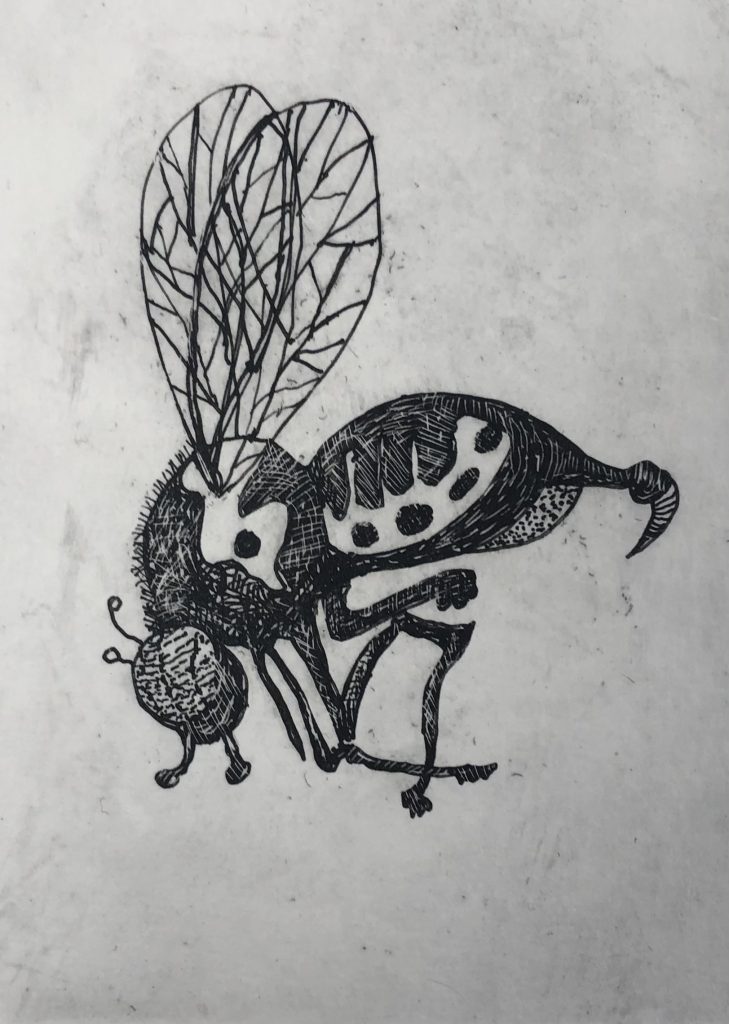 Test print of Plate #007 shows up a dirty clean to the plates tone. The blacks and definition are better. For comparison , I ran the Wasp plate #004 through the press at the same pressure to compare as much as possible the difference with Plate Wasp #007 where the RDS was used.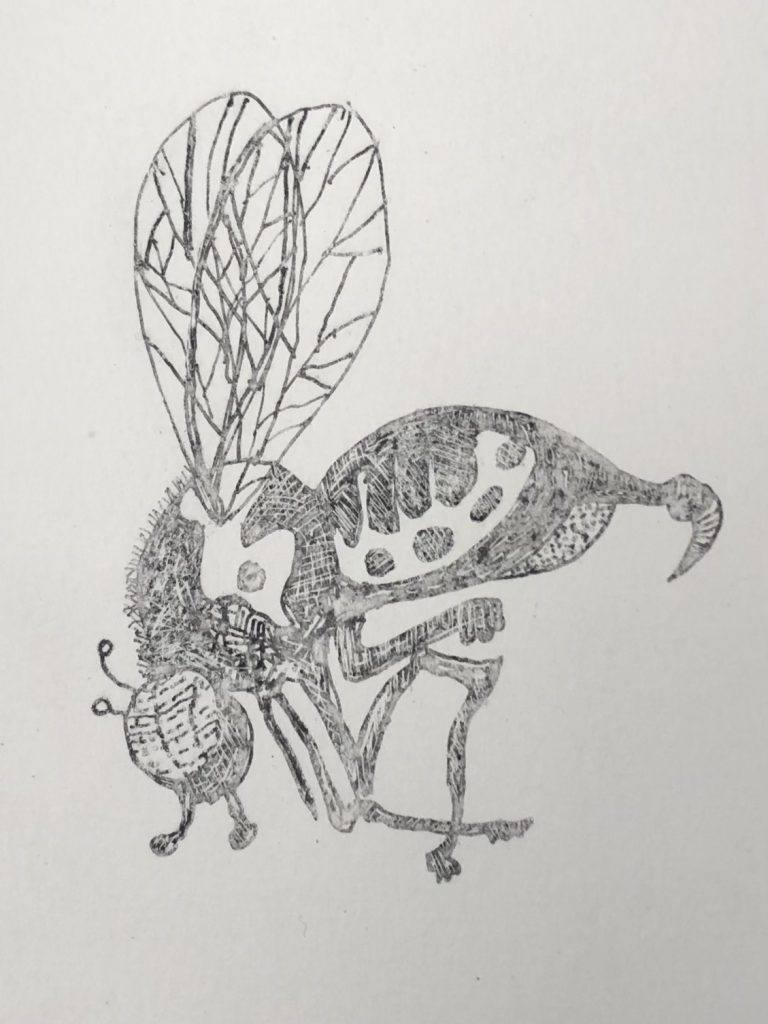 TP 3 was printed on same paper as for the #007 prints i.e. Canson. Montval 300 gsm. The print is light as first inking and possibly over wiped.
Wasp #004 TP4. Second inking printed on Ho-Sho paper at same pressure, with 3 cardboard pads on top of plate. The print has a delicate feel. Looks like a further test of Plate #007 is required, printed on Ho Sho paper, for a fairer comparison. (T/P4 #007 below)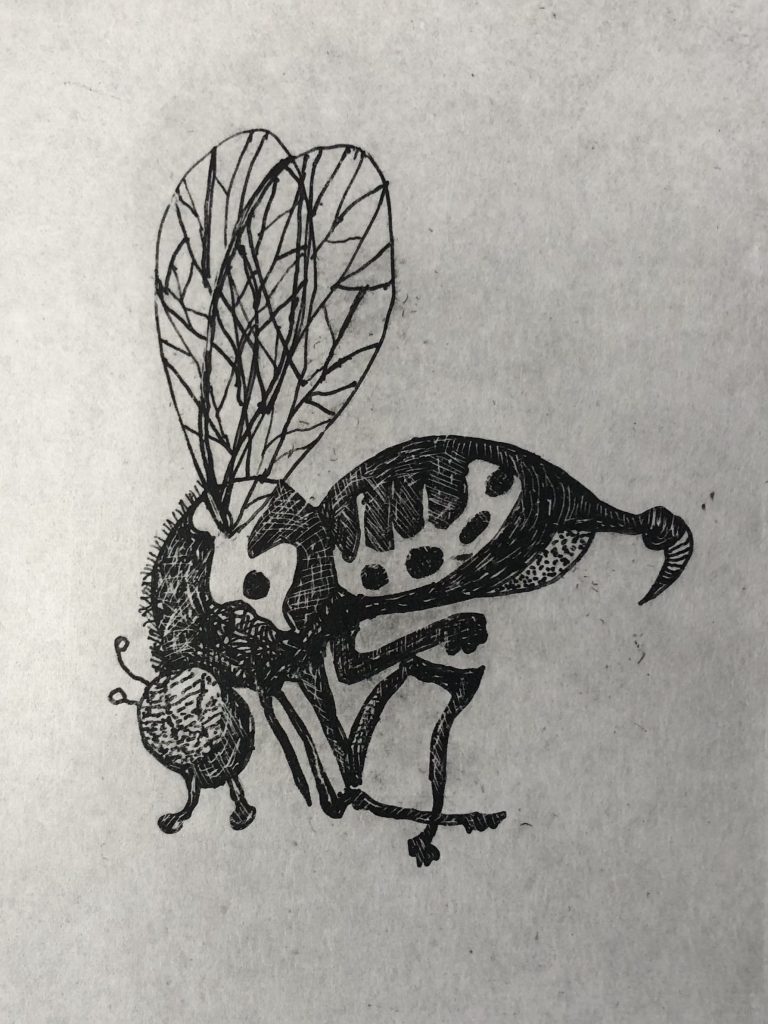 Lessons from today:
My etching press requires cardboard layers over tissue to stop plate moving when going through press;
Remove the felts when printing Lino cuts.. or just leave one and use cardboard as a leader;
Watch for stains and dust on etched plate;
The print quality improves after around the third inking so use proofing paper rather than wasting good quality paper-duh;
What you draw is usually what you get- clean up the negative where lines distract; and
There are somethings worth being distracted for: Our household watches the Robodebt Royal commission hearings. It should not be missed. I don't say that often. I write this blog as I listen to the cringe worthy responses of people under the spotlight. The cost examination of witnesses clearly exposes the workings of the federal government over the past decade. The one that declared ministers don't take opinions from its public service unless it suits them.A pattern of ministers, their advisors and department management appeared around the can't recall tactic when cornered, saying 'not to my recollection' , the 'department was confident', someone with more experience said it was ok, 'not in the forefront of my mind', the person telling me it was legal was my superior' and 'asking the question of legality was not my role or 'not my responsibility' and 'I don't keep notes of meetings'…so it goes.
Back to this post on "Memory and Learning'- here is a collection of test prints showing examples of the various processes and mediums used so far. Refer link for a related post.