Some more talking to myself.
I am using my canvas as giant iPad screen. This is no surprise, after spending a decade of cutting and pasting images under the glass screen of my iPad. The cross over between the digital screen and the wet world of paper and canvass is not a big jump. I do miss the ease of using the redo button and waving magic wands when pasting images and layering colour on a canvas media.
Initially, pencil drawings were done as photographic underlays for further digital manipulation within my iPad.  The process is cyclic, pasting digitally made images into a paper and canvas assemblage after which the resulting image can be taken back into the iPad for further refinement (or curiosity). A process allowing exploration that offers serendipitous accidents to keep my curiosity and interest going. There is still an expectation of a finished work.
The following collection of photos are of works in progress, shown to illustrate the link between mediums and processes.
WIP Flight/Rest is a homage to our dominant flocking birds around our home. Collage of used drawings, pastel, inks and acrylic on paper with applied feathers.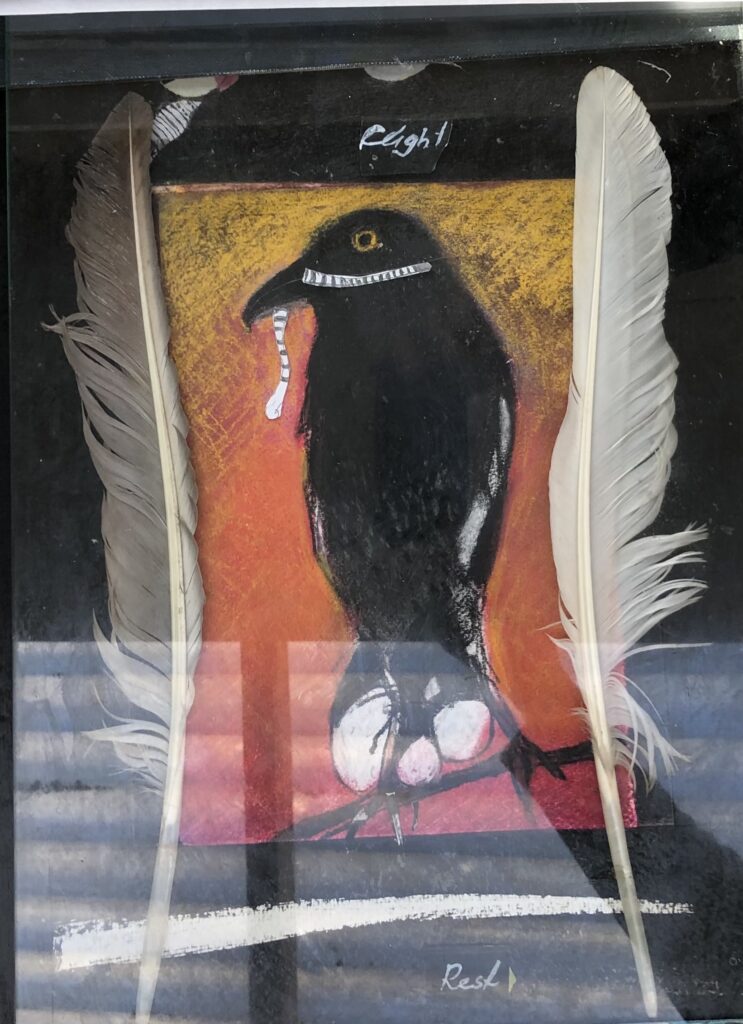 The real world collage taken back into the iPad to sort ideas or make a version of the idea…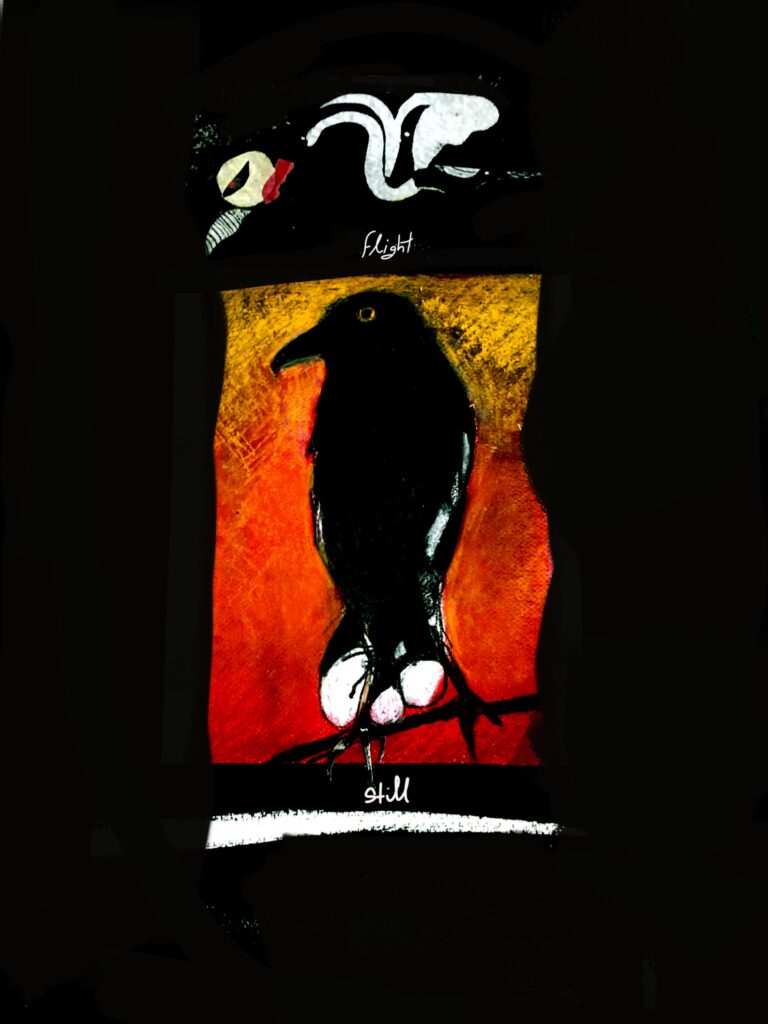 I sporadically work on my painting,'The architect', as I'm still deciding on its composition and underlying purpose. The end is near, so I say, bravely. It may need another 150 cm to its rights side.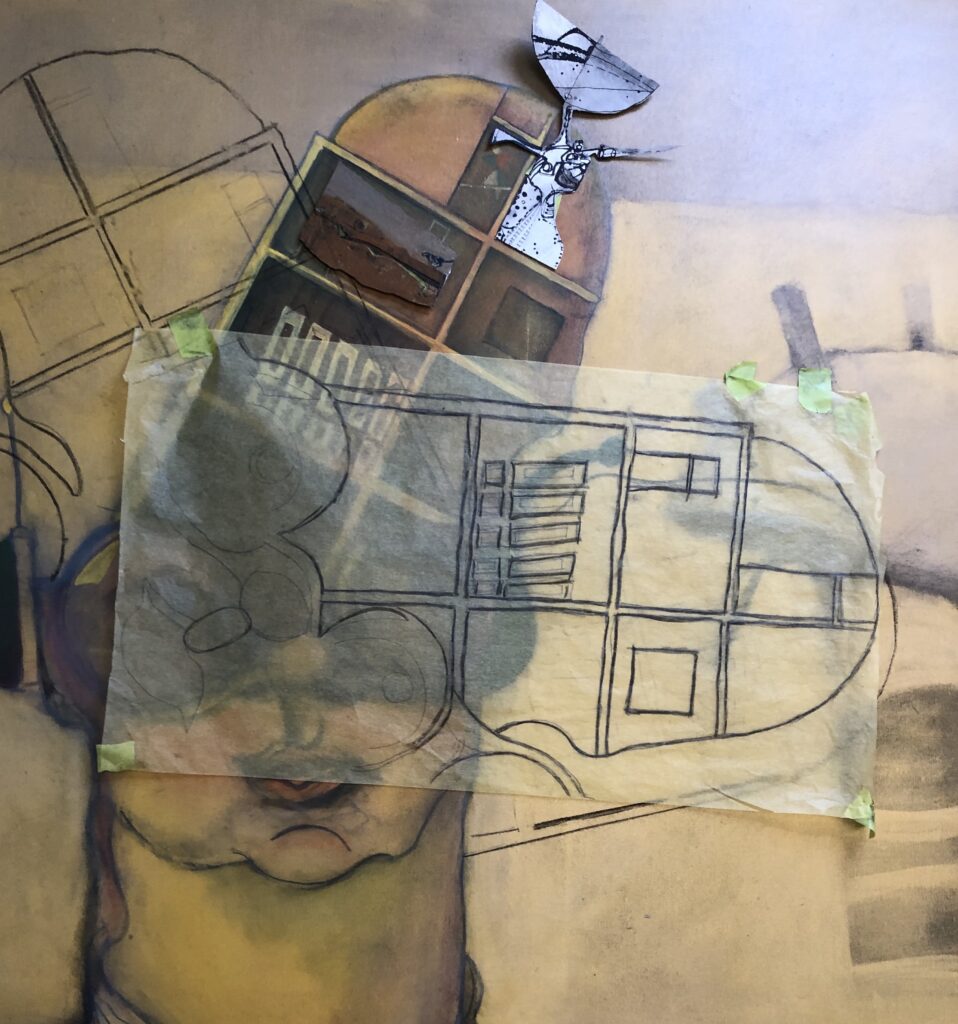 I have not followed the composition of the original drawing so I have reworked the painting with my iPad to explore some ideas. A never ending story.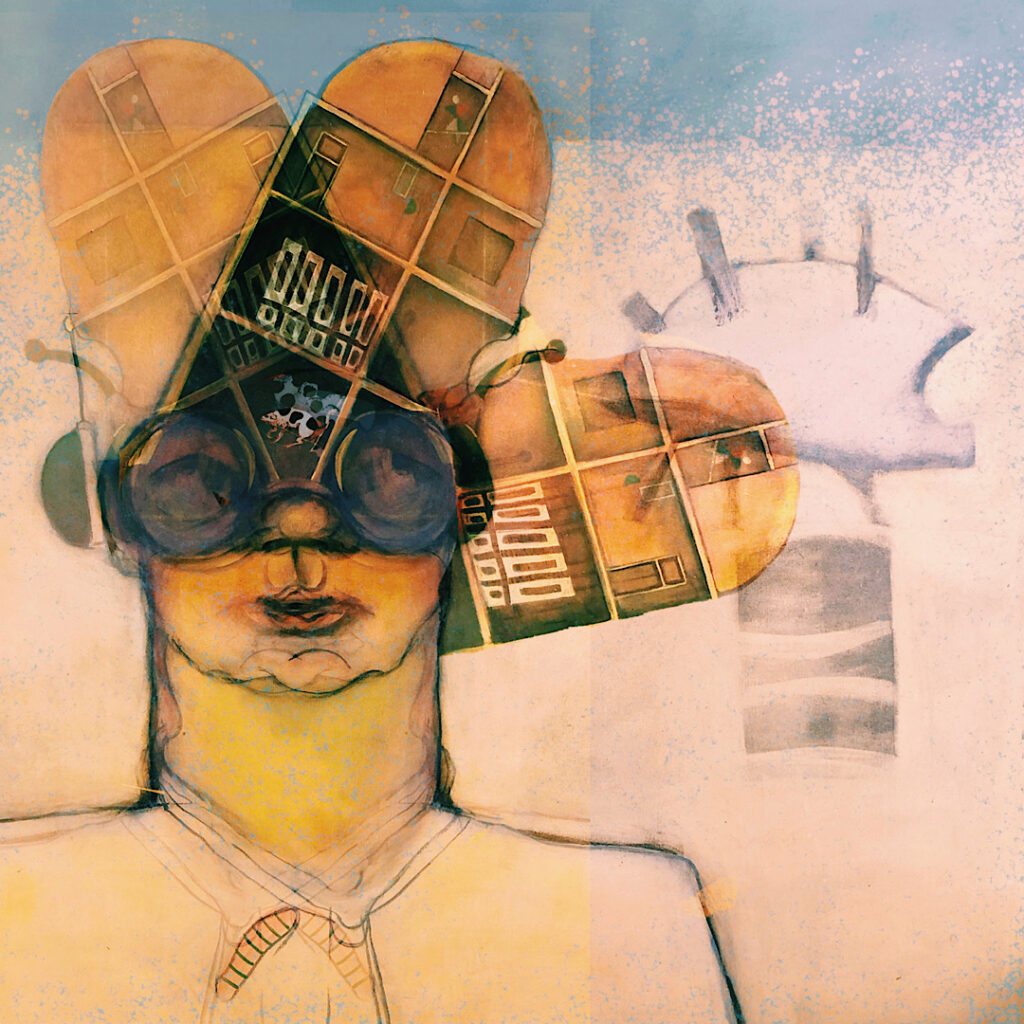 Another work underway is 'Feral cats'. The acrylic and ink drawing segments are waiting to be cleaned up, assembled and layered over a landscape and sky.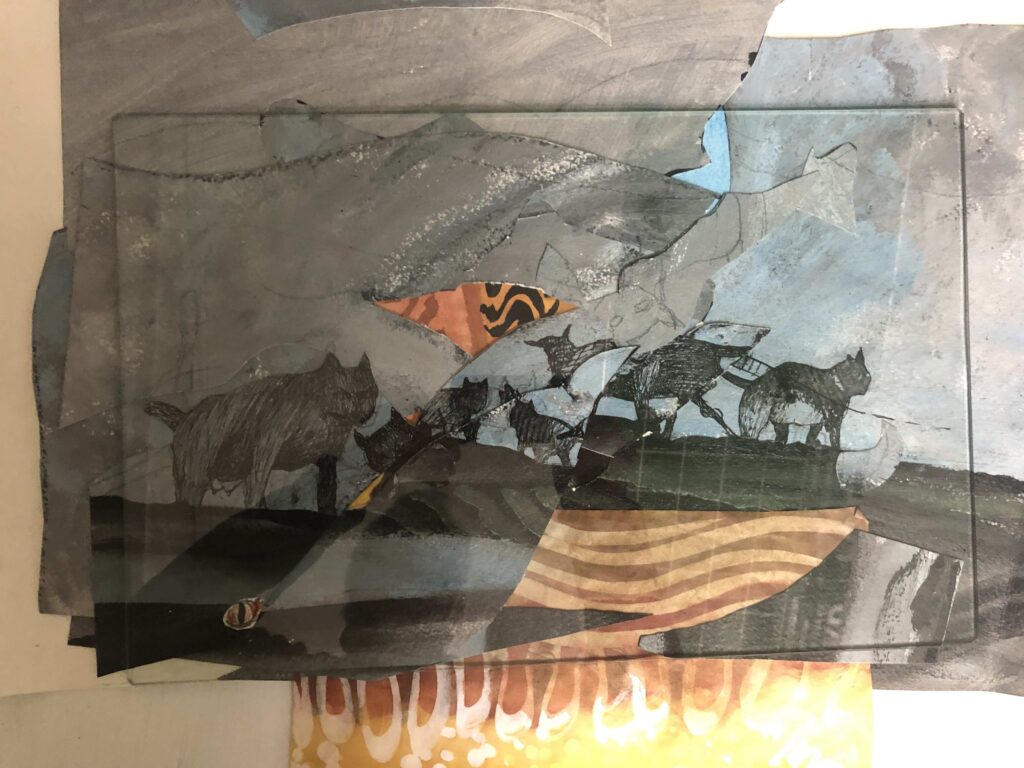 A regular theme of mine has been the swimmer or drowning man. This collage, Man swimming, wearing a tie and bathing cap is a collage of old drawings and paintings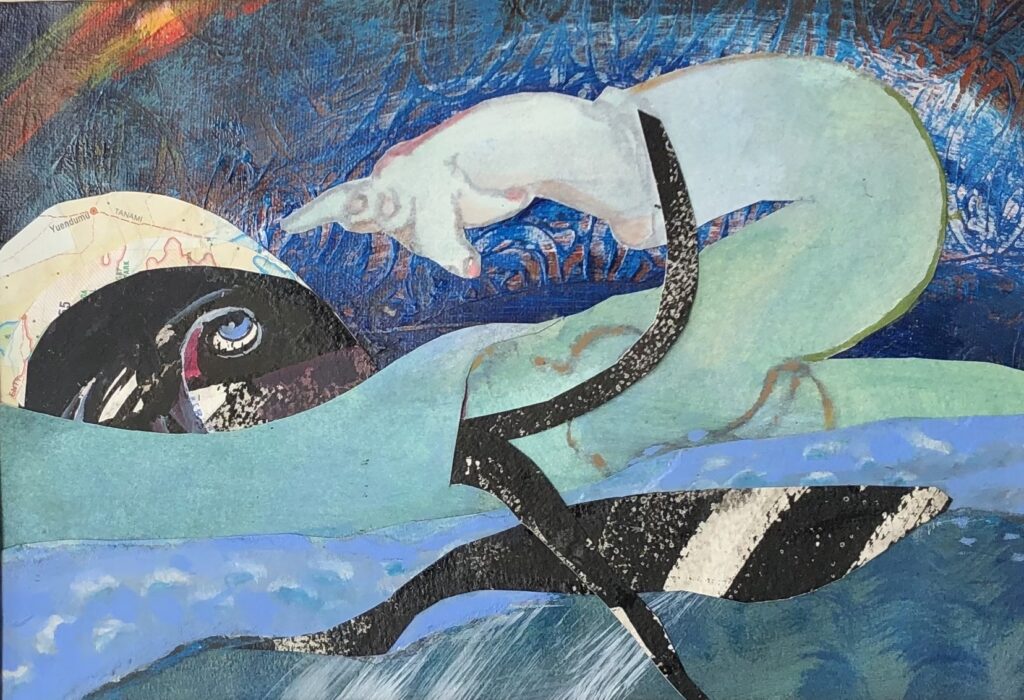 This bland face drawn on an iPod ( I think) many years ago has been sitting around waiting for a use. He finally made it as the ' Decorated Soldier'. Collage on card using celluloid film, photographic paper, ink and acrylic paint. Julj 2022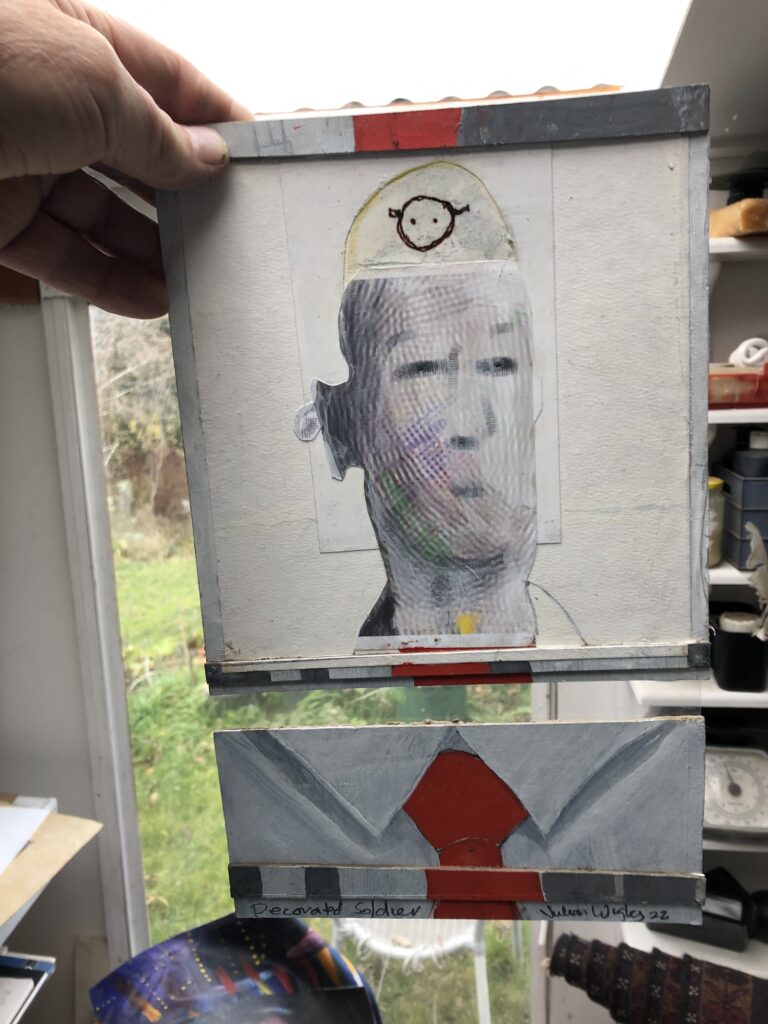 So there you have it….My intimate chat to myself on the current state of the winter art shed and Catch him by his name is dormant.